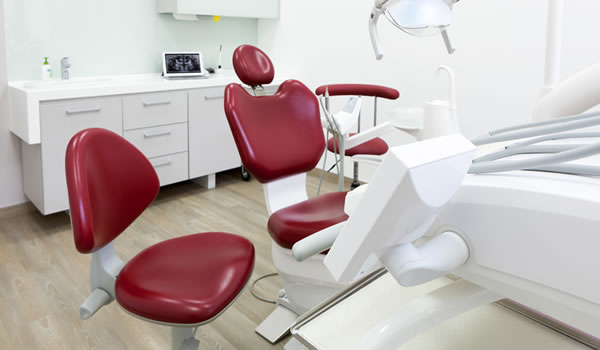 Section 1. Facility Design and Construction
Operatory Layout
The operatory final layouts must be based on the type of oral-health-care-delivery system and the brand that is selected for the clinic. Delivery system options are described later in this unit. It is best to have the operatory layout done by the manufacturer or dental supply company where the dental equipment is purchased.
The operatory design must be followed to the inch during the construction phase, with all utilities placed at the indicated locations. Otherwise, when the equipment is installed, there is a high probability that utilities will not be in the proper location for the most efficient use of the operatory. Construction oversight by a dental supply company or a person experienced in dental office construction is the only way to reliably ensure that the operatory design and equipment are compatible and functional.
Terminology
Chair: The adjustable seat in which patients receive treatment. Dental chairs are hydraulically or electrically operated by foot controls or touch keypads. They can be positioned at every possible angle from fully upright to fully reclined. The major function of the chair is to situate the patient so that the oral health professional has comfortable, unobstructed access to the oral cavity from all angles. In dental terminology, the dentist, hygienist, and assistants sit on stools. "Chair" refers strictly to the dental chair.
Delivery Unit (also known as handpiece control). The suite of powered instruments used by the dentist. The instruments (handpieces) are attached to a moveable platform by flexible tubes containing air, water, fiber optic, and electrical lines. The delivery unit can be located at the side or the rear of the dental chair or can be mounted on the chair itself.
Handpiece. An air-powered or electrically powered rotary instrument used by the dentist in cutting and polishing operations. Handpieces are fitted with a wide range of tips (purchased separately) and are available in either high or low speeds suitable for different jobs.
Junction Box (also known as j box or utility center). The termination point for all of the utilities (compressed air, fresh water, electricity, central vacuum system, and drain) needed to operate dental equipment in the treatment room.
Operatory. The dental treatment room. The simplest operatory layout contains a dental chair, stools for the dentist and his or her assistant, and a handpiece delivery system. Operatories may also contain support cabinets and work surfaces for the dentist and assistant, and perhaps a wall-mounted X-ray machine.